This page, for all those interested, is aimed at providing a bit of history on how Project Adventure – and subsequently Project Adventure Australia – came into existence. After celebrating its 40th birthday in 2011, it's nice to see how far the global being of PA has come about.
Project Adventure founded in the USA in 1971 as a not for profit organisation.
By 1980, at least 400 US schools have adopted at least some one component of the Project Adventure program.
In 1989, Project Adventure Inc. tendered a licence agreement in Australia to promote Project Adventure Australia.
This licence was awarded to the Camping Association of Victoria (predecessor of the Australian Camps Association).
Also in 1989, Jim Schoel, Dick Prouty and Paul Radcliffe publish Islands of Healing. This book becomes the foundation of PA's Adventure Based Counselling model and one that is adopted world-wide.
In 1990, Project Adventure opens in New Zealand.
In 1992, during a Project Adventure training program in Australia, Steve Whitmore signs up as a participant in his role as a youth worker.
1993 sees PA taking an integral role in the establishment of the Association for Challenge Course Technology (ACCT). ACCT is committed to promoting the use of Challenge Course Technology and to setting minimum standards for Challenge Course and Aerial Adventure Course installation, operation and inspection.
1993 also saw Steve head to the United States for six months, where he participated in the internship program run by Project Adventure. Upon his return, Steve becomes a contractor to the CAV/PAA as the Challenge Course Design and Installation (CCDI) co-ordinator and primary builder, which he continues to do for the next five years.
Japan becomes the 3rd country to licence Project Adventure in 1995. PA is now in 4 countries and has several bases of operation in the United States.
In 1996, Bronwyn Whitmore (then Bronwyn McKay) joins the PAA team as a contract trainer following attendance at two PAA residential workshops.
1998 is the year that Steve becomes the sole contractor of CCDI for Project Adventure in Australia. Later that year, Steve becomes the managing director after he takes over the licence agreement for both CCDI and training. Bronwyn becomes employed as the Training Development Manager.
Late 1990's Bronwyn becomes a partner/co-owner of PAA
Throughout the late 90's and early 2000's, Steve has a number of contract builders join him, then leave.
Late 1990's Damien Clark joins PAA as the business development manager.
Late in 2002, Craig Middleton joins Steve as a fresh faced naïve university graduate to learn the dark arts of challenge ropes course building. He also contracts to other outdoor education providers.
September 2003, Bronwyn McKay firmly secures her stake in PAA by becoming Bronwyn Whitmore after she marries Steve in an epic ceremony/reception on the Sunshine Coast, Queensland.
In 2005, Bob Ryan publishes A Guide to Challenge Course Operations. This provides an excellent reference resource to the industry.
2007 Craig leaves PAA to become a full time firefighter, participating in the odd build from time to time.
Late 2000's, Steve decides to sell PAA. After several attempts that fell through, Steve takes a sabbatical for 12 months, concentrating on other projects.
In 2010, Steve conducts a major business restructure of PAA. The training component for PAA is put on hold, concentrating only on CCDI.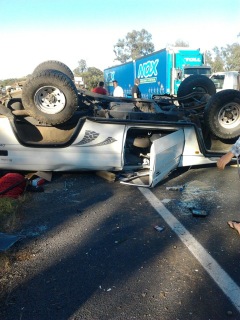 Late 2011 saw Steve, with contract builder Shane Smyth, on a big pre-Christmas work trip south to Victoria and Tasmania. Approximately 30km south of Dubbo in NSW, the trailer blows or loses a tyre, causing the Toyota Landcruiser to roll several times. When they are released from the wreck, Steve has suffered a slight case of whiplash, whilst Shane walked away with a small cut to the forehead and several cracked ribs.
Following the crash, in 2012 Steve begins rebuilding, first by purchasing new vehicles and then acquiring a new boom lift.
2013 saw Craig leave the fire service and come back to PAA as a builder, Facebook page creator and website wannabe.