Climbing towers are dramatic, offering tremendous learning opportunities for participants of every age, and are a major visual focal point for a challenge course. We offer unique forms that can incorporate: rappel faces, overhangs, inclines, roofs, arêtes and chimneys. We can design a tower that sets your course apart!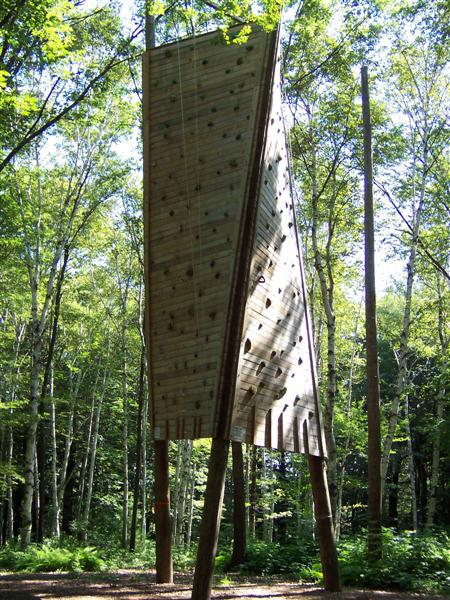 The "wow" factor of a climbing tower often helps to garner support for administrations, donors and community members alike. Towers represent one of the fastest growing trends in the field and meet the needs of a diverse group of organizations and institutions. Our designs provide climbing towers that are dramatic, fun to climb, and relevant to your program. Our timber and pole structures are a good mix of value and quality. Our standard two, three and four pole designs can meet the needs of any budget.
We can custom design and install variations to suit your program's specific needs and goals while mindful of the site's aesthetics. In addition, our designs work hand-in-hand with the many PA programs and activities that your organization may be implementing. Call us to help you design and price your own custom climbing tower.
Features:
Minimum 3 metre wide climbing surfaces capable of supporting two climbers per side at one time
Supplied with all climbing holds
Designed to prevent unauthorized use
Designs can accommodate small footprints with internal guying/bracing technology if needed; standard towers are supported by external guy wires
Integral deck at the top of each tower
Ease of integration into standard challenge course layouts
Variety of heights, typically 12 to 18 metres, smaller or larger designs available to meet any need
Easy to integrate a Zip Wire